Products meeting the search criteria
This Florida: Real Estate Sales Associate Pass/Prep - Cram Course prepares you for the Florida Real Estate Sales Associate Licensing Exam. The course uses a database of over 800 questions with more than 4,100 screens of information, it consists of a course map and practice questions. The course is designed to expose you to only correct information. Optional Corresponding Manual: Florida Real Estate Principles, Practices & Law, by Linda L. Crawford, George Gaines, Jr., & David S...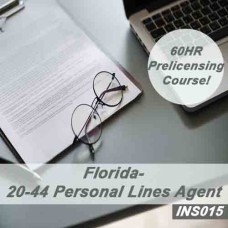 Buy this course - This is an entry-level course for insurance agents. Immediate employment (due to COVID-19 Florida is currently delaying the state exam - get a temporary license). After 1 year with this license, you can use a 40-hour conversion course to earn your 2-20 license. Take this 60-hour course then work one year (appointed by an agency) then take 40-hour conversion course and you don't have to take the 200-hour course to earn your 2-20 General Lines agent license. (Conversi..
Showing 1 to 2 of 2 (1 Pages)